San Francisco Bart: Strikers and management reach deal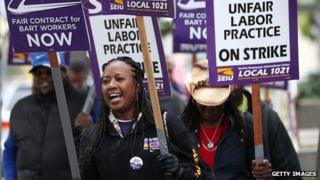 Services on the San Francisco-area rail transit system have resumed after union leaders and managers reached a tentative deal to end a strike.
The four-day walkout on the Bay Area Rapid Transit (Bart) system has affected several hundred thousand commuters.
Some trains were running by 06:00 local time (13:00 GMT), later than promised, with full service expected later.
The strike over wages and workplace rules is the second this year on Bart.
Bart general manager Grace Crunican said in a statement: "This is a good package for our union members while still allowing the District to make the necessary investments in our infrastructure."
But she said the transit agency had compromised and the deal was "more than we wanted to pay".
The resumed service, scheduled for 04:00 local time, did not begin until two hours later. Traffic was heavy at the San Francisco-Oakland Bay Bridge toll plaza early on Tuesday morning.
Neither side disclosed details of the proposed agreement ahead of the ballot.
The Bart system carries more than 400,000 people a day in San Francisco, Oakland, Berkeley and outlying suburbs.
Since the strike took effect on Friday the Bay Area has bolstered bus and ferry services to meet the extra demand, while bridges and highways have been clogged.
Commuters have been forced to line up before dawn to catch charter buses into San Francisco, the city at the centre of the 4.3 million-population metropolitan area.
The two unions involved in the dispute represent nearly 2,400 train operators, station agents, maintenance workers and other staff.
It is the second Bart worker strike in four months, with pay, healthcare and pension issues among the key sticking points.