CeeLo Green faces felony ecstasy charge in Los Angeles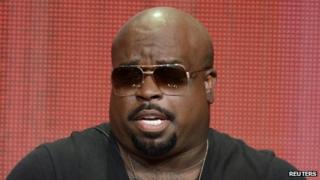 Singer and television star CeeLo Green has been charged with giving the drug ecstasy to a woman while the two were dining at a Los Angeles restaurant.
The Grammy winner, real name Thomas DeCarlo Callaway, "slipped" the drug to the 33-year-old woman during the meal last July, prosecutors said.
The two then went back to the woman's hotel room, authorities said.
If convicted, Mr Green, 38, faces up to four years in prison. He pleaded not guilty.
Mr Green was charged with one felony count of furnishing a controlled substance, the Los Angeles County District Attorney's Office said.
He pleaded not guilty during his arraignment in Los Angeles County court on Monday.
Prosecutors have requested his bail be set at $30,000 (£18,579). He is scheduled to appear in court again on 20 November.
The Atlanta native is best known for the worldwide 2006 hit single Crazy, which he recorded with the soul duo Gnarls Barkley.
He also appears on the NBC reality show The Voice.