New Jersey has its first gay weddings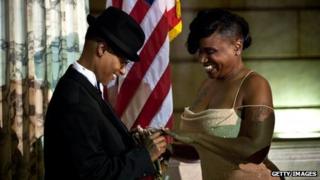 Gay couples in New Jersey have been exchanging vows on the day the US state allowed same-sex marriage.
A judge ruled last month that New Jersey must recognise gay nuptials.
Hours after the first ceremonies were held, Republican Governor Chris Christie - a potential 2016 White House candidate and declared opponent of gay unions - dropped a legal appeal against the ruling.
Same-sex marriages are now legal in 14 states and the District of Columbia.
A few minutes before midnight on Sunday, same-sex couples gathered in civic buildings across the state to wed.
'Overwhelming'
Newark Mayor Cory Booker, a Democrat who was elected last week to the US Senate, conducted some of the ceremonies at city hall.
A protester was removed after shouting: "This is unlawful in the eyes of God and Jesus Christ."
Jersey City Mayor Steve Fulop conducted a joint ceremony for eight couples at the city council chambers.
"I never thought I'd see this in my lifetime," said Barbara Milton after she was married to Kay Osborn, in remarks carried by the Associated Press news agency.
"To have this moment of equality is overwhelming."
Married gay couples in New Jersey can now receive all the state and federal benefits of marriage.
Mr Christie dropped the appeal hours after the first weddings began on Monday.
"Although the Governor strongly disagrees with the court substituting its judgment for the constitutional process of the elected branches or a vote of the people, the court has now spoken clearly as to their view of the New Jersey Constitution and, therefore, same-sex marriage is the law," his spokesman, Michael Drewniak, said in a statement.
The Republican had previously said marriage was between a man and a woman, and argued that a popular vote should determine the issue.
Also on Monday, four same-sex couples living in the state of Tennessee but wed in other states filed a lawsuit challenging Tennessee's law prohibiting recognition of their marriages.
The suit argues that Tennessee's laws, including a constitutional amendment banning gay marriage, violate the US constitution's guarantees of equal protection and due process.
The Supreme Court struck down a key portion of a law preventing federal recognition of same-sex marriages in states that allow it earlier this year.