Stepmother of 'bully' on abuse charge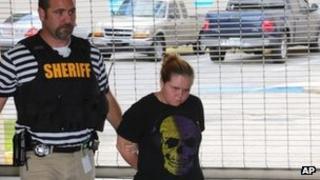 The stepmother of a 14-year-old accused of bullying a Florida girl who took her own life has been arrested for child abuse after a video was posted online.
Vivian Vosburg, 30, is allegedly shown punching and hitting two boys in a video posted to Facebook in July 2013.
Ms Vosburg's stepdaughter was among two children charged with aggravated stalking this week, who are said to have bullied Rebecca Sedwick online.
Rebecca jumped to her death from a tower on 9 September.
Authorities said she was "terrorised" online and through text messages by up to 15 former friends.
Ms Vosburg identified herself as the mother of 14-year-old when she appeared on broadcasters CNN and ABC to say the girl did not bully Rebecca and that she checked her stepdaughter's Facebook every night.
Polk County Sheriff Grady Judd said the bullying campaign had begun last year after the girl objected to Rebecca dating a boy whom she had been seeing.