Accidentally freed Florida murderers registered at jail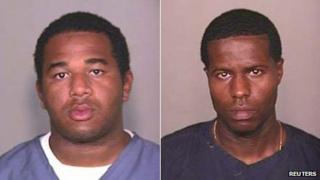 Two convicted murderers freed from prison with forged paperwork dutifully went to a jail to register as felons several days after their release.
Florida officials are searching for Joseph Jenkins and Charles Walker, both 34, who were serving life sentences.
Prison officials said they will tighten up their early-release policy to ensure there is no repeat of the blunder.
The falsified documents were not identified until several weeks after first convict's release.
It is not clear who made the bogus release documents, or if the escapes were related.
Jenkins walked free on 27 September and registered three days later at a jail in Orange County, Florida, about 300 miles (480km) from the prison where he was serving his sentence.
Walker was set free on 8 October from the same prison and registered on 11 October.
Fingerprints taken
The two prisoners apparently signed on to keep up the ruse that they had been released early by a judge.
Released felons are required to register as they re-enter the public, otherwise a warrant is issued for their arrest.
The registration process includes fingerprinting, images of which are uploaded to Florida police records.
A deputy at the jail verifies that felons do not have any outstanding warrants, according to jail spokesman Allen Moore.
Release documents bearing the forged signature of a sitting judge were processed through standard channels this autumn, officials have said.
Authorities received release orders bearing the faked signature of Orange County Chief Judge Belvin Perry, printed on Ninth Judicial Circuit letterhead.
The fabricated documents were processed by the Orange County clerk's office and sent to the Department of Corrections, which co-ordinated the inmates' release from Franklin prison in the city of Carrabelle, in the north of the state.
Sheriff's office spokesman Angelo Nieves told reporters: "This shouldn't have happened, but it did, and our concern is to get these individuals into custody."
Judge Perry said there were several red flags that should have alerted the court clerk's office or the corrections department, notably, how rare it is for a sentence reduction to come from prosecutors.
On Friday, Florida Corrections Secretary Michael Crews said prisons will now verify with judges, not just court clerks, before releasing prisoners early.
Authorities have been reviewing other releases based on modified court orders received from Orange County, to ensure no other inmates had been prematurely freed.
Jenkins was serving a life sentence for the 1998 shooting death of a father of six during a botched robbery.
Walker was sentenced to life in prison for the 1999 shooting death of a 23-year-old man. Walker said he did not mean to kill the man but fired three shots in warning because the man had been bullying him.