Obama picks Jeh Johnson as new Homeland Security head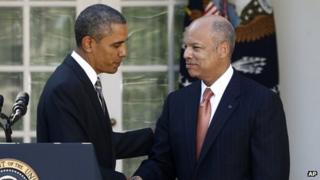 US President Barack Obama has nominated former top Pentagon lawyer Jeh Johnson as the new secretary of homeland security.
He will replace Janet Napolitano, who announced her departure in July.
Mr Johnson, 56, was a central figure in several key administration policies, including ending the Pentagon's ban on openly gay members of the military.
The former Pentagon and Air Force lawyer's nomination must be confirmed by the Senate.
'National security leader'
On Friday, Mr Obama called Mr Johnson a "critical member" of his national security team and "an outstanding public servant".
"I'm confident I could not make a better choice," Mr Obama said. "He has a deep understanding of the threats and challenges facing the United States."
Mr Johnson called his new role a "large and important responsibility".
"I love this country, I care about the safety of our people," he said.
Mr Johnson served as general counsel to the defence department since 2009, overseeing numerous national security issues including the legality of drone warfare.
He authored a report which led to the repeal in 2010 of the so-called "don't ask, don't tell" policy barring gays and lesbians from serving openly in the military.
Mr Johnson also served as general counsel to the Department of the Air Force under former President Bill Clinton.
If confirmed by the Senate, he would oversee a vast bureaucracy overseeing counterterrorism, border security, transport security, and disaster response.
The department currently employees more than 240,000 workers across nearly two dozen government agencies, and has a budget of more than $46bn (£28.4bn).
Ms Napolitano, who had served as homeland security secretary since 2009, is now the president of the University of California system.