San Francisco's Bart commuter rail faces strike threat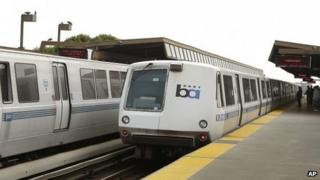 San Francisco's commuter rail could face a second strike in a year as negotiations between labour unions and the transit agency reach an impasse.
The unions said a deal was "extremely close", but staff would walk out from midnight on Thursday unless management agreed to arbitration.
A July industrial action shut down the rail, which serves 400,000 people in the Bay Area, for four days.
The Bay Area Rapid Transit (Bart) dispute has lasted for six months.
Agreement was near on the key sticking points of pay, healthcare and pension issues, said Roxanne Sanchez, president of the Service Employees International Union Local 1021.
But she said management had rejected a union suggestion to take the remaining work-rule issues to arbitration, prompting the walkout threat.
The two unions involved in the dispute represent nearly 2,400 train operators, station agents, maintenance workers and other staff.
After July's strike, California Governor Jerry Brown ordered a 60-day cooling off period, which ended on Sunday.
A federal mediator has been working since then with Bart and the unions.
Commuters were initially braced for a strike on Thursday morning, but that was called off.
Bart spokeswoman Alicia Trost said the rail operator had been inundated with calls and emails this week from commuters frustrated they had not been given earlier notice about whether the trains would run.