Where were you when JFK was assassinated?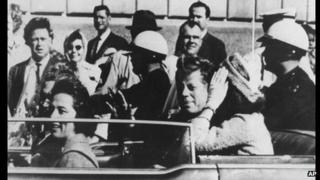 It is 50 years since John F Kennedy was assassinated. Where were you when you heard the news?
Kennedy was sworn in as president in 1961. At 43 he was the country's youngest president and presented himself as a youthful figure for a new generation.
On November 22, 1963, Kennedy and his wife Jacqueline were riding slowly in a motorcade through Dallas.
At 12:30 the president was hit in the head and throat when three shots were fired at his open-topped car. He was pronounced dead shortly after arrival at Parkland Memorial Hospital.
According to the Warren Commission established to investigate the assassination, a lone gunman - Lee Harvey Oswald - killed the president. There has been consistent speculation ever since that Kennedy's death was the result of a conspiracy.
The news shocked the nation and the world. British-American journalist Alistair Cooke said he could not remember a time in the previous 30 years when people everywhere were "so quiet, so tired looking" and "so plainly the victims of a huge and bitter disappointment".
In his Letter from America, Cooke recalled the promise of the youthful president, saying there was "the sense that we've been cheated… of the promise of what we had begun to call the age of Kennedy".
Can you remember where you were when you heard the news? Have you got any photos from the day or did you ever meet the president? Wherever you are in the world, we want to hear your story.
Send us your memories and pictures. Please include a telephone number if you are happy for a journalist to contact you.