Analysis: US diplomacy weathers shutdown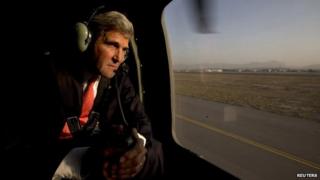 There has been an international sigh of relief over the eleventh-hour deal in Washington ending a government shutdown. But there has also been some shaking of heads around the world over the recent spectacle of US domestic political stand-off. So will it all produce any lasting fallout in terms of America's international standing?
China has joined the chorus of international relief over the deal, although Beijing's official Xinhua news agency continued to be critical of America's politicians. The head of the International Monetary Fund, Christine Lagarde, also welcomed the agreement, but called for a more stable long-term approach to US finances.
More broadly, the spectacle of political deadlock, even - some have said - dysfunction, in Washington has clearly raised some alarms and even caused some bewilderment internationally.
According to Dana Allin of the International Institute for Strategic Studies (IISS), "it's not a great advert for the American way when your state looks ungovernable".
Of course, Winston Churchill is often quoted as saying that democracy is the worst form of government - except for all the others.
But some experts still suggest there could be consequences. Xenia Dormandy, US expert at the Chatham House think-tank, has argued that this episode could have significant implications for America's reputation and power.
Unique position
The most tangible international diplomatic effect of the shutdown/debt ceiling crisis was President Barack Obama's non-appearance at the recent Asia-Pacific Economic Cooperation (APEC) summit. That could have an impact on important regional trade pact negotiations.
There has also been some concern that what happened could undercut the Obama administration's much-trumpeted "pivot" or rebalancing towards Asia.
Early on in the crisis, the US Defence Secretary, Chuck Hagel, expressed his concern that the partial US federal shutdown could damage Washington's credibility with key allies.
What has fuelled some of the concerns being expressed has been the timing of it all. The latest crisis came hot on the heels of what many saw as the somewhat faltering US handling of the crisis over Syrian chemical weapons, underlining for many a palpable war-weariness in the United States.
There was also President Obama's somewhat tentative, reflective speech on America's role in the world at the UN General Assembly.
It has all seemed to add up in the minds of some to a body of evidence that America's will to act internationally has been diminished, and that it is much more preoccupied with domestic concerns. Some have even been employing the term "isolationism" again.
And yet the US remains in a unique global position, both economically and militarily.
Of the 86,000 international troops still in Afghanistan, 60,000 are US personnel.
The two recent US special forces raids in Libya and Somalia, during the federal shutdown, seemed to demonstrate that the US can still act effectively on the world stage.
Also, while the domestic crisis was unfolding, US diplomacy was engaged in helping to set up what could be one of the most significant arms control operations of recent times (in Syria) and engage in what could be a significant new round of contacts with Iran under its new president.
So the diplomatic and strategic fallout may be limited at most, and possibly temporary. According to Mr Allin from the IISS, much will depend on whether those behind the US deadlock have learned their lesson: "If we go through this again, the governability of the American system [could be] in considerable doubt".
This crisis has fuelled some new doubts, and this is a crisis that has been averted only for now.