Viewpoints: Charting a course ahead for Boehner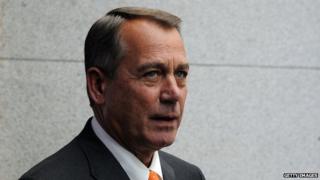 President Barack Obama has signed into law a bill to reopen the US government and raise its borrowing limit, avoiding a potentially catastrophic default on debt. This ends much of the drama on Capitol Hill - but not for House of Representatives Speaker John Boehner, whose political future is up in the air.
Most Americans blame Republicans for the shutdown of the government. Many focus their ire on Mr Boehner.
Some people are now calling for his removal. Others say he did as well as anyone could and should remain in office. Here is a look at what his future holds.
Gordon Adams, professor of international relations, American University
It's now clear that he cannot control his caucus. In every episode of this comedy, he's had to do the same thing: look like he's in charge of his caucus, wait for the last minute and then fold his hand. What's next for him? When you're not in charge, and you want to look like you're in charge, then you race to the front of the crowd and find the exit.
Zan Green, founder, Rainy Day Patriots, an organisation committed to "State Sovereignty"
I don't know what's going to happen to him. But I would like him to pack up, go home and keep his mouth shut - and I would like us to get a conservative constitutional Republican to be speaker of the House, someone with backbone.
Harrison Hickman, pollster for former Vice-President Al Gore and other politicians
Nobody's particularly graceful trying to juggle knives while roller skating - though I don't feel pity for him. He asked for the role. We shouldn't be surprised when people who run for powerful offices get damaged by the power they have. It's as old as the ages.
Raul Labrador, Republican congressman from Idaho
I don't think he should be ashamed of anything that he has done. I'm more upset with my Republican conference to be honest with you… If anybody should be kicked out, it's probably those Republicans and not Speaker Boehner. (presentation, Heritage Foundation, 16 October)
Michael Patrick Leahy, author, Covenant of Liberty: The Ideological Origins of the Tea Party Movement
Boehner did not lead the charge, and therefore the Tea Party movement is not impressed with the quality of his backbone. It remains to be seen whether or not he will now cave, as established Republicans have done for decades.
Debbie Wasserman Schultz, congresswoman from Florida and chairwoman, Democratic National Committee
I think he'll continue as speaker of the House. There's not an easy mechanism to remove a speaker of the House, and I'd be very surprised if that were to occur.
Donald Wolfensberger, congressional scholar, Woodrow Wilson International Center and Bipartisan Policy Center
He is speaker of the House, and if anybody wanted to move against him, that would have to be voted on by the entire House. I don't think it's going to come to that. I think he has enough support among the party caucus, and he's not a loser. He's one who's followed the wishes of his caucus.