Bob Filner pleads guilty to sexual harassment charges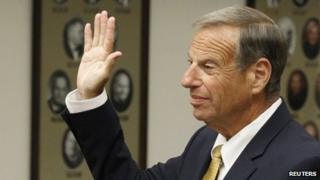 The ex-mayor of San Diego has pleaded guilty to three charges connected to the sexual harassment scandal that saw him forced from office.
Bob Filner resigned in August after at least 17 women came forward to accuse him of inappropriate behaviour.
The charges against the Democrat, including false imprisonment, involved three women.
Filner had previously denied the allegations, including in his farewell speech from office.
On Tuesday he pleaded guilty in California Superior Court to charges of false imprisonment by violence, fraud, menace and deceit and two misdemeanour counts of battery.
During the hearing Filner admitted to touching a woman on the rear during a political rally and kissing another woman on the lips at a public "Meet the Mayor" event.
The former 10-term congressman was less than one year into his term as mayor of the southern California city when his former communications director accused him of sexual harassment and filed a lawsuit against him.
Irene McCormack Jackson said her former boss demanded kisses from her, told her he wanted to see her naked, and put her in a headlock.
More than a dozen women came forward after that, accusing Filner, 71, of sexual harassment.
Fellow California politicians called on Filner to resign and a recall effort was undertaken to remove him from office.
Filner initially protested his innocence, insisting that he would ultimately be vindicated.
The City of San Diego agreed to pay his legal expenses in defence of the sexual harassment lawsuit, but subsequently determined it would not represent him in any criminal case.
Filner is currently scheduled to be sentenced on 9 December.