Eric Graham and Joshua Tate face court martial for sexual misconduct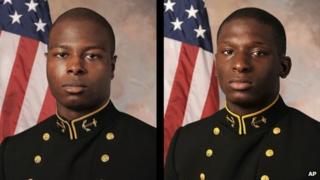 Two former US Naval Academy football players will face court martial over the alleged sexual assault of a classmate at a party, the academy has said.
The midshipmen are accused of sexual misconduct and making false official statements.
The alleged female victim was reportedly assaulted in April 2012 while intoxicated at a party.
Lawyers for both men have said their clients are innocent.
'Yoga and toga'
Midshipman Eric Graham has been charged with abusive sexual contact and Midshipman Joshua Tate with aggravated sexual assault, according to the Naval Academy.
The superintendent of the Naval Academy, Vice-Adm Mike Miller, chose not to court martial a third suspect in the incident who had been previously charged with aggravated sexual assault.
The incident was investigated by the Naval Criminal Investigative Service and forwarded to a military hearing in June, according to the Naval Academy.
The alleged sexual assault occurred at a "yoga and toga" party near the Academy in the US state of Maryland, according to a New York Times report.
The victim, described as a then-20-year-old second-year student, was intoxicated and had sexual relations with some partygoers.
She testified during a September military hearing that she had no memory of parts of the evening, and later heard of the encounters via social media, according to media reports.
Academy officials said the woman initially refused to cooperate with investigators.
In recent years, critics have condemned what they call an epidemic of sexual misconduct in the US military.
In May, President Barack Obama said he had "no tolerance" for such behaviour.
"If we find out somebody's engaging in this, they've got to be held accountable - prosecuted, stripped of their positions, court martialed, fired, dishonourably discharged. Period," he said.
Susan Burke, a lawyer for the alleged victim, said her client was aggressively questioned about her sex life during an eight-day military hearing to determine whether the men should be prosecuted.
Ms Burke also sued in federal court to remove Adm Miller from deciding whether to court martial the suspects, but the case was rejected by a federal judge.
"We continue to believe that Congress needs to overhaul the military justice system," Ms Burke told the Associated Press news agency.