Canadian billionaire Paul Desmarais dies aged 86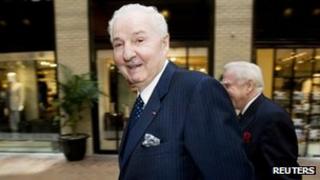 One of Canada's richest and most influential men, Paul Desmarais Sr, has died at the age of 86, his family says.
The billionaire began his international conglomerate, Power Corp, by reviving his family's bankrupt bus company.
While friends to multiple prime ministers, Desmarais was less liked by some in his adopted province of Quebec for his strong federalist views.
Prime Minister Stephen Harper offered condolences to his family, saying he was a "unique business leader".
"One of Canada's most successful businessmen, Mr Desmarais was known for his leadership, integrity, global vision, and profound attachment to his country," Mr Harper said in a statement.
International presence
Desmarais died on Tuesday evening at his country estate north-east of Quebec City surrounded by family.
After turning around the bus firm in Ontario, Desmarais bought an electric power utility, Power Corp, through a reverse take over in 1968.
He expanded his business to holdings in insurance, transportation, paper, media and financial services. He branched out to international partnerships, including petrol firm Total and wine maker Pernod Ricard.
Desmarais, whose estimated personal net worth was $4.4bn (£2.7bn), handed over the reigns of Power Corp to his sons in 1996, but remained involved in decision making.
The tycoon, who was active in public policy, was denounced by name in a manifesto by the separatist Front de Liberation du Quebec, which bombed the Montreal Stock Exchange.
A moment of silence was observed in the Quebec National Assembly on Wednesday to mark his death.
He was also credited with helping Canadian firms set up business in China and in 2008, he was presented with France's Legion of Honour by then-President Nicolas Sarkozy - a rare honour for a non-citizen of France.