US salmonella outbreak sickens nearly 300 people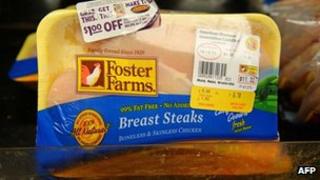 An outbreak of salmonella infections in the US has sickened nearly 300 people, sending about half to hospital.
Food inspection officials said infections in 17 states were believed to be linked to raw chicken from three Foster Farms locations in California.
The outbreak has raised concerns by consumer advocates about food safety and public health during the US government shutdown.
Heath officials have been called back from unpaid leave over the outbreak.
The Centers for Disease Control (CDC) have recalled 30 people, including 10 who specialise in food-borne illnesses, National Public Radio reports.
The agricultural department's Food Safety and Inspection Service (FSIS) issued a health alert on Tuesday about the outbreak, warning consumers to carefully handle raw chicken and fully cook it using a meat thermometer.
"The outbreak is still ongoing, and therefore our investigation is still ongoing," a spokesman for FSIS told the AFP news agency,
FSIS said 135 inspectors were on duty responding to the outbreak despite the government shutdown.
Most of those who have fallen ill are in California, the CDC reports.
In a statement, Foster Farms said no recall had been ordered and that their products "are safe to consume if properly handled and cooked".
The Center for Science in the Public Interest (CSPI), a consumer advocacy group, noted that seven separate strains of salmonella appear to be responsible for the outbreak.
"The number of people we know to be ill is just the tip of the iceberg," said CSPI food safety director Caroline Smith DeWaal.
"This outbreak shows that is a terrible time for government public health officials to be locked out of their offices and labs, and for government websites to go dark."
Another food safety regulator, the Food and Drug Administration, previously warned its shutdown reductions in its own staff would make it "unable to support the majority of its food safety, nutrition and cosmetics activities".
Common symptoms of salmonella infection include diarrhoea, stomach cramps and fever.