Denver couple charged after sons found in squalor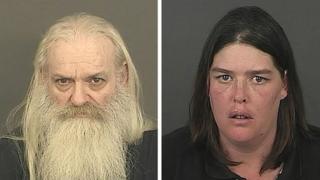 The parents of four boys who were found in a filthy Denver home suffering from malnourishment and only able to talk in grunts are facing charges of abuse.
The sons of Wayne Sperling, 66, and Lorinda Bailey, 35, were found amid cat faeces and fly swarms, officials said.
The pair did not enter pleas to multiple charges of felony child abuse at their first court appearance.
A doctor who examined the boys, aged 2, 4, 5 and 6, said they were not toilet trained and had delayed verbal skills.
Police were alerted to the situation after Ms Bailey took her two-year-old son to hospital to be treated for a head wound, according to legal documents.
An examining doctor alerted authorities after noting the boy smelled of cigarettes, was unwashed and unable to communicate properly.
Home schooling
Police called to examine the family home said they found 5cm (two inches) of cat faeces under one bed in the property, according to the district attorney's office in Denver, Colorado.
They also reported a strong smell of cat faeces and urine and the odour of a decomposing animal, although no body could be found.
Mr Sperling told investigators he was unemployed and was the boys' primary guardian, according to an arrest warrant affidavit. He said he had plans to home-school the eldest child.
"Sperling stated the children have their own language and grunt at each other but were able to speak to him and Bailey," the affidavit said.
Ms Bailey, who lived in a separate unit but saw the boys most days, told police that she did not think their apartment was unsafe, it added.
She also rejected claims that the boys were suffering from developmental problems.
Mr Sperling and Ms Bailey, who police said had both pleaded guilty to misdemeanour child abuse in 2009, are being held on $5,000 bonds (£3,100).