Steubenville case: School employee charged with tampering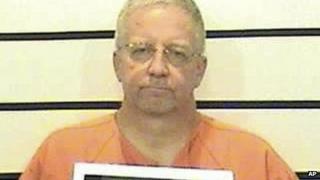 An Ohio school worker has been charged with tampering with evidence in the case against two teenage footballers convicted of raping a 16-year-old girl.
William Rhinaman, 53, is a technology director for Steubenville schools.
The two boys were sentenced in March to at least a year in juvenile detention. Mr Rhinaman has denied the accusations against him.
Critics have claimed Steubenville residents hid evidence to protect a celebrated high school football team.
A grand jury has been convened to determine whether adults such as coaches or school administrators knew of the rape allegation but failed to report it as required by law.
"This is the first indictment in an ongoing grand jury investigation," Ohio Attorney General Mike DeWine said in a statement. "Our goal remains to uncover the truth, and our investigation continues."
Mr Rhinaman was indicted by the grand jury convened the same day in March that Trent Mays, 16, and Ma'lik Richmond, 17, were sentenced for the rape and related charges.
The case came to light via text messages, online videos and social media posts made the morning after the rape, attracting nationwide attention.
Community divided
The incident occurred around a teenage drinking party in August 2012, when Trent and Ma'lik left with the victim, who was reportedly unconscious from drink, and sexually assaulted her in a car and then at a friend's house.
The case left a sharp divide in Steubenville, an economically depressed former steel town of 18,000 people that had immense pride in its high school football team.
Mr Rhinaman went to work for the Steubenville school system in 1985, left in 2002, and returned in 2006, according to schools superintendent Michael McVey.
As the technology director, he was responsible for maintaining technology for the district, including equipment and software. He was being held in a county jail without bail.
The tampering charge dates from 11 August 2012, the night the party began, through 25 April 2013.
Additional charges are dated later, including an allegation of lying under oath on the same day the grand jury was in session.
Further details about the alleged offenses were not available.