Self-immolated man had 'long battle' with mental illness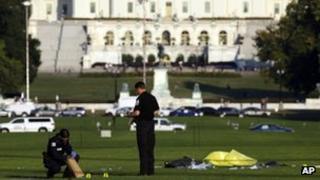 The man who died after setting himself on fire on the Washington National Mall on Friday has been identified as New Jersey resident John Constantino.
Constantino, 64, poured petrol over himself in sight of the Capitol building and set himself ablaze.
His family said his death was "not a political act or statement, but the result of his long battle with mental illness".
Passing joggers attempted to save Constantino, who died in hospital.
Police said Constantino was conscious and breathing at the scene after passers-by attempted to extinguished the flames
But he died of his injuries later that evening, and officials had to use DNA and dental records to identify him because of the extent of his burns.
'Deeply saddened'
The Constantino family said in the statement that it wanted to acknowledge the heroism of the emergency workers and bystanders who tried to save his life.
The family said it was "shocked and deeply saddened", but did not address the nature of his mental illness and asked for privacy.
Lt Pamela Smith of the US Park Police said she was not aware that Constantino had carried any signs with him or had articulated a cause.
A witness, Katy Scheflen, told the Associated Press she did not hear the man say anything intelligible before he set himself on fire.
The National Mall, a public park in the heart of Washington DC between the US Capitol and the Lincoln Memorial, is a popular tourist destination. It has been nominally closed during the partial US government shutdown.
Constantino's death came a day after an unarmed woman was killed after a police chase through the city following her attempt to bypass a security gate at the White House.