Supreme Court tackles high-profile agenda in new term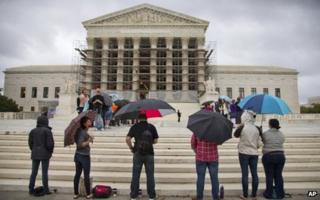 The US Supreme Court begins its new term this week with an agenda full of high-profile cases on social issues ranging from reproductive rights to affirmative action.
On Tuesday, the court will hear a campaign finance follow-on to its controversial 2010 Citizens United decision.
That 5-4 ruling allowed corporations to offer unlimited funds in support of or opposition to political candidates.
The court term will end in June 2014.
The court's first major case - McCutcheon v Federal Election Commission - is a challenge to the overall limits an individual can give to political action committees, candidates and parties in a two-year federal election cycle.
'No clear trend'
The court has scrutinised several campaign finance laws in recent years, including Citizens United v Federal Election Commission, which freed corporations and labour unions to make unlimited contributions in candidate elections.
Other high-profile cases on the court's agenda this term include National Labor Relations Board v Noel Canning, which will test US President Barack Obama's ability to bypass the Senate in making recess appointments.
Two abortion cases are also scheduled to be argued before the court this term, one of which challenges a Massachusetts state law restricting protests near reproductive health facilities.
Later this month, the court will also hear arguments in Schuette v Coalition to Defend Affirmative Action, which challenges whether the state of Michigan can ban affirmative action in higher education.
"This term, like the past couple of terms, what we have is the court taking [on] a broad range of highly salient social issues," Goldstein & Russell counsel Tejinder Singh told the BBC.
"There's no clear trend yet in terms of what issues interest the court, but what is clear is the court is not being shy about loading its docket with high-profile cases with potentially substantial ramifications."