Canada reviews Commonwealth support in Sri Lanka protest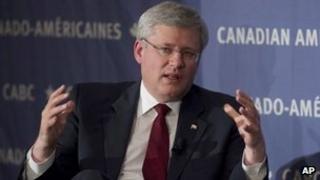 Canada is reviewing its financial support for the Commonwealth in protest against alleged human rights abuses in Sri Lanka, Prime Minister Stephen Harper has said.
Mr Harper also confirmed he would boycott the group's November 2013 summit in Colombo, Sri Lanka's capital.
Canada is the second-largest financial contributor to the organisation of 53 former British territories.
Sri Lanka has previously dismissed its objections as biased and unfair.
Chitranganee Wagiswara, the Sri Lankan high commissioner in Ottawa, told the BBC it was "up to each country to decide on participation".
She noted there had not been 100% attendance at previous summits, and that next month the UK, Australia and New Zealand were still planning to attend.
On Monday, Mr Harper said he had not taken the decision to boycott the meeting lightly.
'Definite evidence'
"Canada is deeply concerned about the situation in Sri Lanka," Mr Harper said in a statement.
"The absence of accountability for the serious violations of human rights and international humanitarian standards during and after the civil war is unacceptable."
Mr Harper cited the recent impeachment of the Sri Lankan chief justice, as well as "ongoing reports" of the incarceration of political leaders and journalists and allegations of disappearances and extra-judicial killings.
"The Sri Lankan government has failed to uphold the Commonwealth's core values, which are cherished by Canadians," he said.
Ms Wagiswara dismissed Mr Harper's condemnation.
"One cannot say that there is no accountability," the high commissioner said. "It's only four years since the end of the [Sri Lankan civil war]. If there are any human rights violations the government is looking into them."
And she rejected Mr Harper's comment that Sri Lanka had failed to uphold Commonwealth values.
"From our point of view, we are a functioning democracy," Ms Wagiswara said.
'Considerable' investment
Deepak Obhrai, parliamentary secretary to the Minister of Foreign Affairs and for International Human Rights, will attend the summit in Mr Harper's place.
Mr Harper had previously threatened to boycott the Sri Lankan summit.
Canada contributes about 20 million Canadian dollars ($19.4m; £12m) each year to the Commonwealth, including C$5m to the secretariat, which runs the group. A loss of Canadian financing could threaten the organisation, analysts say.
The prime minister also confirmed on Monday at the summit of the Asia-Pacific Economic Cooperation (APEC) forum in Bali, Indonesia, that Canada would review its financial contributions to the Commonwealth.
"Obviously we will examine our engagement and our financing of the Commonwealth, which is quite considerable, to make sure that we are wisely using taxpayer dollars and reflecting Canadian values," he told reporters.
New Zealand Prime Minister John Key and his Australian counterpart Tony Abbott said they would attend, the Canadian Press news agency reports.
Canada is home to the largest expatriate Sri-Lankan Tamil community. Many of them migrated over the last few decades as civil war gripped Sri Lanka.
In 2009, Sri Lanka's army defeated the ethnic-Tamil rebels after a brutal 26-year war that left at least 100,000 people dead.
Both sides were accused of human rights abuses throughout the conflict, with much focus on its final stages when thousands of civilians were trapped in a thin strip of land in the north of Sri Lanka as fighting raged around them.
Estimates of civilian deaths in the final months range widely from 9,000 to 75,000.