Tropical Storm Karen weakens off US Gulf Coast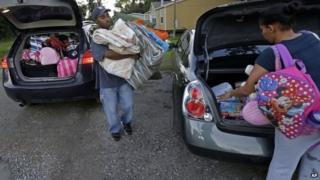 A tropical storm which sparked an alert on the US Gulf Coast is losing strength but heavy rain and potential flooding are still expected.
As of 09:00 GMT (04:00 CDT), the storm had weakened to 40mph (64km/h) and was not expected to rise, the National Hurricane Center said in an update.
Forecasters expect the centre of the storm to approach the south-east Louisiana coast on Saturday night.
It is the first storm to threaten the coast this Atlantic hurricane season.
News that it was weakening came after a busy day of preparations, as pickups hauled boat trailers and flatbed lorries carried loads of crab traps out of vulnerable, low-lying areas of south-east Louisiana.
Alabama had joined Louisiana, Mississippi and Florida in declaring a state of emergency while oil platforms out in the Gulf of Mexico were shutting production as a precaution.
Federal emergency agencies recalled workers who were on leave because of the ongoing government shutdown.