Gracie Johnson survives rockslide that killed family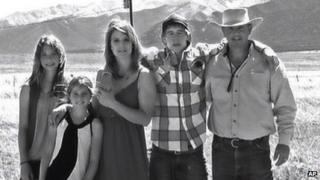 A 13-year-old girl remains in hospital following a rockslide in the US state of Colorado which killed five members of her family.
Gracie Johnson's parents, sister and two cousins were struck by falling boulders, some the size of cars, while hiking along a popular mountain trail on Monday.
Officials say the girl's father may have saved her life by shielding her from the falling rocks.
She was being treated for a broken leg.
Gracie was hiking along a popular Colorado trail on Monday morning when officials say a cliff shelf above Agnes Vaille Falls collapsed.
Recent heavy rain coupled with a fall freeze contributed to the rockslide that sent 100-tonne boulders barrelling down the mountain.
Unstable conditions
Chaffee County Sheriff's Deputy Nick Tolsma told reporters he saw Gracie's hand sticking up out of the rocks when he arrived at the scene and helped pull her out.
"She told me at the last second when the boulders were coming down on top of them that [her father] covered her up and protected her, which I believe [is what] saved her life,'' he said.
Killed in the accident were Gracie's father, Dwayne Johnson, 46; mother Dawna, 45; sister Kiowa-Rain, 18; and two cousins, Baigen Walker, 10; and Paris Walkup, 22.
Gracie's surviving brother, Dakota, 19, was released from jail on Monday to visit her and will return later to complete his sentence stemming from an undisclosed August 2012 arrest.
"There was no way we could keep him in jail," Chaffee County Sheriff Pete Palmer told the Denver Post.
Rescuers struggled against unstable conditions on Tuesday to retrieve the bodies. The effort required five hours and a 40-person crew to dig by hand through the rubble.
Sheriff's officials have asked the US Forest Service to close the trail permanently, arguing it is no longer safe.