Obamacare: Has Trump managed to kill off Affordable Care Act?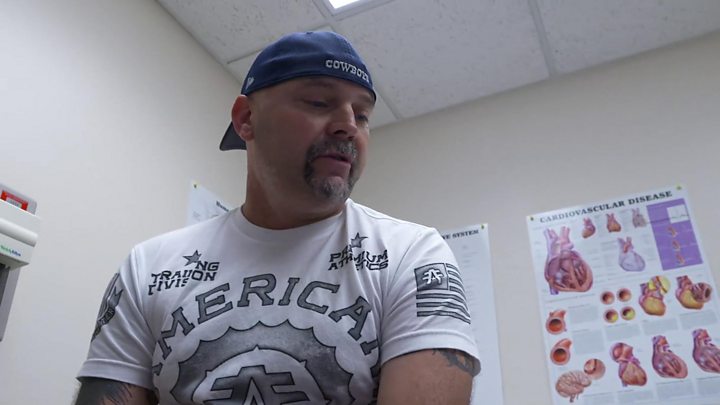 The Trump administration has ramped up its attack on the Affordable Care Act by backing a federal judge's decision to declare the entire law unconstitutional.
For now, Obamacare is still standing. Around 4.1 million Americans have signed up for new plans so far this year, according to government reports, down 12% from last year.
At a rally this week, Mr Trump again promised his supporters: "We are going to get rid of Obamacare." But how much has he delivered on that pledge so far?
Repealing individual mandate
Congressional Republicans last year finally succeeded in repealing the Obamacare requirement that people buy health insurance or pay a tax penalty.
In December 2018, a federal judge in Texas ruled that the repeal of this "essential" part of the law meant the entirety of Obamacare is therefore unconstitutional.
The law, however, remains in place as an appeal heads to the US Supreme Court.
The mandate was not as successful as Obamacare's architects hoped in driving younger, healthier Americans into the healthcare marketplace.
Now, as they ditch their coverage, analysts say insurance firms are making up for the loss by charging more to the sick or medically vulnerable patients left behind.
Creating 'skinny' plans
In 2018, the Trump administration allowed small businesses to offer Americans cheaper, less-comprehensive policies called Association Health Plans (AHPs) that last only up to a year.
Since AHPs are short-term, companies can charge higher premiums or deny coverage based on medical history and pre-existing conditions, which Obamacare made illegal for long-term plans.
These skimpy plans are meant to appeal to young, healthy Americans, but some AHPs may not cover basics like prescription drugs or maternity care.
But in March 2019, a federal judge in Washington DC blocked AHPs on the grounds that they are "clearly an end-run around" to patient protections in the ACA.
Shortening enrolment
Initially, users had 90 days to sign up for insurance on the federal marketplace.
In 2017, the Trump administration cut it down to 45 days, and then closed the website every Sunday for 12 hours, citing maintenance.
Slashing ads and budgets
Funding for the "navigator" programme, under which trained individuals or organisations help people sign up for insurance through Obamacare, has dropped from $62.5m (£48m) to $10m under President Trump.
His administration has also cut Obamacare advertising spending to $10m - a 90% reduction.
According to a November 2018 Kaiser Health poll, 61% of Americans aged 18 to 64 said they did not know about any enrolment deadlines.
Ending cost-sharing reduction payments
Insurance companies who covered lower-income Obamacare patients used to get cost-sharing reduction (CSR) payments from the US government.
When the Trump administration cancelled these payments in October 2017, insurance firms increased premiums to compensate for the loss.
The end of CSR payments had little effect on lower-income Americans, who still receive other healthcare subsidies. But it did lead to a cost hike for patients who pay full-price for their medical coverage.
Medicaid work requirements
The Trump administration has tried to push through work requirements for those using Medicaid - a free healthcare service for low-income Americans - saying it's a way to help end poverty.
The policies are state-led and then federally approved. So far, eight states have passed rules requiring many Medicaid users to work, volunteer or train to receive benefits, US media report.
On 27 March, a federal judge in Washington DC blocked "arbitrary and capricious" Trump administration-approved policies in Arkansas and Kentucky, punting them back to the Department of Health and Human Services for amending.
What's the impact?
For now, former President Obama's law limps on. He posted a video last December urging uninsured Americans to register.
A 2018 government report saw 11.8 million Americans re-enrol in Obamacare plans, and 27% were new users.
It was around 400,000 fewer people than in 2017 - a smaller figure than expected given the Trump administration's efforts.
Average premiums have nearly doubled since 2014.
A Gallup poll earlier this year found 55% of Americans worry "a great deal" about accessing and affording medical care - the fifth year in a row that healthcare has topped the issues list.
Gallup also reported the adult uninsured rate had dropped to a record low of 10.9% in 2016, but has since risen to 12.3% post-Trump.
---
What does the existing law do?
The Patient Protection and Affordable Care Act, known as Obamacare or the ACA, was the largest overhaul of the US healthcare system since the 1960s.
It aimed to eventually slow the growth of US healthcare spending, which is the highest in the world.
Obamacare intended to extend health insurance coverage to the estimated 15% of Americans who lacked it and were not covered by other health programmes for the poor and elderly.
The law created state-run marketplaces - with websites akin to online shopping sites - where individuals can compare prices as they shop for coverage.
Some of the more popular provisions include:
Children can stay on their parent's healthcare plan until age 26
No one who is sick or has a medical condition can be denied insurance
Companies can no longer charge women more than men
Businesses with more than 50 full-time employees must offer health insurance
'Don't take away our healthcare' says Trump country
---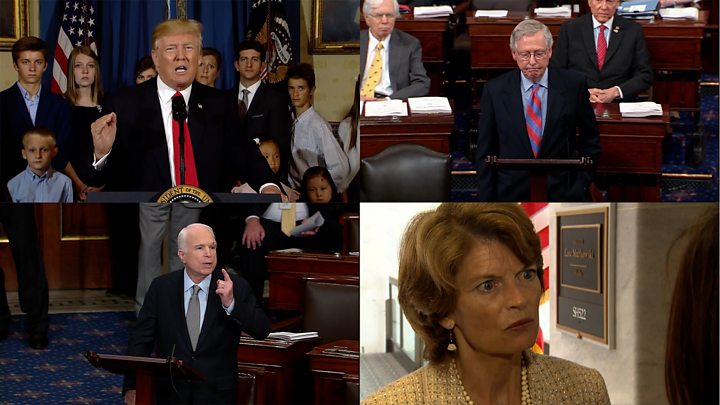 ---
Why do conservatives oppose the law?
Republicans say it imposes too many costs and regulations on business, with many describing it as a "job killer". However, since the implementation of Obamacare jobs in the healthcare sector, at least, rose by 9% and a 2017 study found that around 2.6 million jobs could be lost by 2019 if it is repealed.
Conservatives have also baulked at Obamacare's rule requiring most companies to cover birth control for free.
The Trump administration tried to put in place new guidelines for organisations to opt out on moral grounds last year, but two federal judges blocked the move.
During the Obama presidency, the Republican-controlled House of Representatives took dozens of symbolic votes to repeal the law and provoked a partial government shutdown over the issue.
After repeated legal challenges, in 2012 the US Supreme Court declared Obamacare constitutional.
Despite having a majority on Capitol Hill under President Trump, a Republican repeal bid failed in dramatic fashion in 2018.
Democratic leaders have acknowledged Obamacare is not perfect, and have challenged Republicans to work with them to fix its flaws.
Obamacare v Republican plan compared
Where Trump went wrong on healthcare
The big US election issue that's not Trump
---
What about 'Medicare for All'?
Growing numbers of liberal Democrats are coalescing around a universal healthcare plan proposed by Democratic presidential candidate Bernie Sanders.
He advocates expanding Medicare, the US government's medical coverage programme for pensioners, to all Americans.
Mr Sanders' idea - Medicare for All - would provide healthcare for everyone free of charge. He says it would be funded by higher taxes.
Conservatives say the idea would bankrupt the country, but supporters say Americans would save by avoiding the opaque medical fees they currently face, such as insurance premiums, co-payments, deductibles and other out-of-pocket expenses.
A study by the free-market Mercatus Center found Medicare could cost the federal government more than $32tn over the course of a decade.
The same research also estimated the plan could save the country $2tn over the same period - but only if healthcare providers accepted a 40% drop in payment rates.