Arrests made in Brian Holloway's trashed house party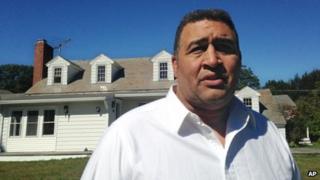 Six people have been arrested after hundreds of young partiers broke into a former American football player's vacation home and caused $20,000 (£12,471) in damage.
Police in New York state expect more arrests over the 31 August incident over the Labour Day holiday.
Ex-New England Patriots lineman Brian Holloway was in Florida when he learned of the raging party through Twitter.
He posted online photos taken at the party, gathered through social media.
Mr Holloway said he did so to urge the young people to take responsibility for their actions - and to mend their ways.
As many as 400 teenagers attended the raucous party at Mr Holloway's vacant vacation home in Stephentown in upstate New York on 31 August, spreading word about the event through social media such as Twitter.
Mr Holloway, who also played for the Los Angeles Raiders, told reporters his 19-year-old son alerted him to the tweets and that he watched as the young people posted photos and accounts of the partying - and the destruction - at his home.
"They were drinking (underage), doing drugs, selling drugs and destroying property," Mr Holloway wrote.
'A shocker'
Before Mr Holloway reported the incident to the police, he learned on Twitter that officers had already arrived at the scene and broken up the party, according to media reports.
When Mr Holloway travelled to the home later, he found broken doors and windows, urine-soaked carpets, graffiti-covered walls and missing personal property.
The motivational speaker and father of eight created a website and posted pictures of the party pulled from social media websites, asking anyone involved to come forward and take responsibility.
When only four people did, he authorised county police to bring charges in the incident, Mr Holloway told the media.
Police identified Seth Hawk, 19, as the alleged ringleader of the party and have charged him with felony counts of burglary and criminal mischief.
Mr Holloway told reporters Mr Hawk's arrest "was a shocker", as he was a troubled former classmate of his son's whom the family had taken in for a time.
Those arrested on Thursday range in age from 17-21 and face charges including larceny and trespassing.