Montana rapist Stacey Rambold freed after 30 days in jail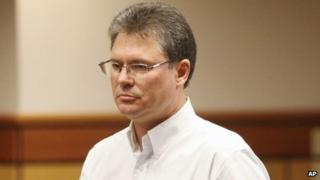 An ex-teacher convicted in the US state of Montana of raping a 14-year-old girl has been freed after 30 days in jail, as critics demand the judge who tried the case be removed from the bench.
Stacey Rambold was convicted of the 2007 rape of student Cherice Moralez, who later killed herself.
Judge Todd Baugh said the victim was "older than her chronological age" as he passed the lenient sentence.
Prosecutors have appealed against the sentence to the state Supreme Court.
Rambold, 54, was met by a family member at a Montana state prison on Thursday and was expected to return to the city of Billings, a prison spokeswoman told the Associated Press news agency.
He is a registered sex offender and will remain on probation through 2028. Moralez took her own life in 2010 before Rambold went to trial.
In August, after Rambold was convicted Judge Baugh said Moralez had been "as much in control of the situation" as her rapist, drawing outrage from the victim's mother, protesters and critics across the US.
He sentenced Rambold to 15 years in prison - but with all save one month suspended.
After a national outcry erupted, Judge Baugh said his comments were "stupid and wrong". But his subsequent attempt to modify Rambold's sentence was prohibited by Montana's Supreme Court.
State prosecutors have appealed against Rambold's effective 30-day sentence. Rambold will remain free as the appeal winds through the state Supreme Court, a process prosecutors say could take six to 18 months.
A formal effort to have Judge Baugh removed from the bench is pending before the state Judicial Standards Commission.