Why Obama isn't picking up the phone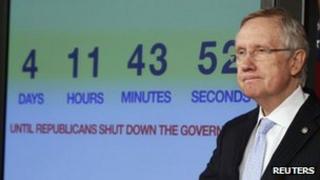 Conservatives loathe Obamacare and will do anything to wreck it.
They say it will hurt people and the economy. They say opinion polls show a majority are against it.
That's why they have linked what should be a simple matter - funding the government - with a plan to gut the bill.
President Obama is scornful. "Think about it, shutting down the government just because you don't like a law that was passed and found constitutional," he told an audience in Maryland.
The Republicans' ideological fervour has convinced many of them that they are right, and even more that they must look over the shoulder at the Tea Party or risk the next election.
There's little doubt a shutdown would harm the US image and do some damage to the real economy.
So as the hours tick by to a shutdown, the Republican leadership is sounding a little desperate, backed in to a corner. And the Democrats are enjoying watching them squirm.
At a news conference the Speaker of the House, John Boehner, seemed to be pleading with the president to give them something, anything in return for passing a bill.
But the Democrats' leader in the Senate, Harry Reid, had a simple reply to reporters' questions about whether he would negotiate about this, that or the other: "No", "no" and "no".
He said he wouldn't negotiate with a gun pointed at the head of the American people - and talked of Republicans "walking over a cliff", taking "the path to oblivion". One of his colleagues said the impasse was the result of "Tea Party temper tantrums".
They were enjoying themselves, in a rather stern, grim way.
If the Republicans do blink, the war in their ranks will intensify. If they don't they could be seen as putting the obsession of their activists before the needs of the country.
It's little wonder the president isn't picking up the phone.