Iran leaders' UN speeches compared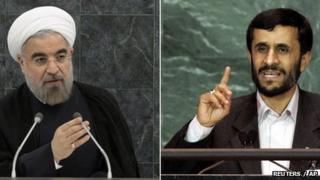 One month after taking office, Iran's President Hassan Rouhani has already distinguished himself from his controversial predecessor, Mahmoud Ahmadinejad.
In his address to the UN General Assembly, Mr Rouhani said his nation posed "absolutely no threat to the world or region" and said Iran was prepared immediately to engage - under certain conditions - in negotiations over its nuclear programme.
His speech stands in stark contrast to the statement delivered in 2005 by Mr Ahmadinejad before the UN.
In what was his first appearance at the summit, Mr Ahmadinejad said his nation was being denied its "inalienable right" to produce nuclear fuel for peaceful purposes.
Mr Ahmadinejad criticised US foreign policy and denounced what he said were powerful interests bullying and misrepresenting Iran.
Here are graphic "wordle" representations of their speeches. The size of each word reflects how many times it was mentioned in their respective addresses:
Rouhani - 24 September 2013
Ahmadinejad - 17 September 2005