Connecticut court to decide whether horses are 'vicious'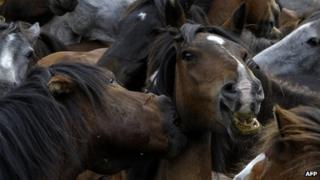 A US court is to hear a case that could result in horses being classified as a "vicious" species.
A boy's parents sued a farm owner in the state of Connecticut after he was bitten by a horse named Scuppy in 2006.
A lower court said Scuppy belonged "to a species naturally inclined to do mischief and be vicious". The state supreme court will now hear an appeal.
If upheld, the lower court's ruling could make horse ownership uninsurable, say equine industry figures.
The legal action began in 2006 after a boy tried to pet Scuppy at Glendale Farms in Milford.
The animal reportedly bit the child on his right cheek, inflicting a serious injury.
The boy's father, Anthony Vendrella, sued the farm's owners, but lost in 2010 at a New Haven court.
That court ruled there was no evidence the farm's owner knew of any previous incidents of aggression involving Scuppy.
But a Connecticut Appellate Court later overturned this ruling, finding that testimony suggested Scuppy's species was "vicious" and that the boy's injury had been foreseeable.
If upheld by the state's supreme court, the ruling would be the first in the nation to classify horses as a vicious species, say analysts.
Horse farmers say that could make it difficult to pair horses with children, and damage a $221m (£138m) a year industry.