Embattled IRS 'targeting' boss Lois Lerner retires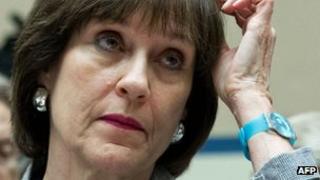 A US official whose office was at the centre of a row over scrutiny given to political groups seeking tax exemption has retired, the agency has confirmed.
Lois Lerner, on paid leave since May, led the tax-exempt division of the Internal Revenue Service (IRS).
Revelations the IRS had subjected conservative political groups seeking tax-exempt status to extra auditing sparked outrage among Republicans.
But it has since been revealed liberal groups may have been targeted, too.
Republicans in Congress have repeatedly called for Ms Lerner to be fired. Ms Lerner, a career civil servant, declined to testify in Congress on the matter, citing protection under the US constitution against self-incrimination.
Two senior IRS officials have already resigned over the affair.
The additional IRS scrutiny given to political organisations seeking tax-exempt status under a section of US tax law covering non-profit groups began in 2010.
That year, the US Supreme Court loosened restrictions on political spending by organisations unaffiliated with candidates' campaigns, leading to a surge in applications for tax-exempt status by newly created political groups.
The practice, which the IRS has since halted, was first revealed in May by Ms Lerner.
Investigators with the US treasury department subsequently confirmed civil servants in an IRS office in Ohio had drawn up a list of key words in organisations' names that would trigger extra scrutiny.
Republicans suggested the undue attention to conservative groups was directed by the White House but have not produced any evidence to support the allegation.
The treasury department found no evidence of political influence in the matter and put the practice down to overworked civil servants seeking shortcuts. The agency's new chief later said the IRS watch list included a "broad spectrum" of political keywords, not just those indicating a conservative orientation.
On Monday, the IRS said it had "taken decisive actions to correct failures in exempt organizations management".