Saudi princess Meshael Alayban: US 'slavery' case dropped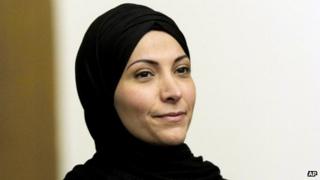 Charges have been dropped against a Saudi princess who was accused of human trafficking after a Kenyan maid said her passport was taken and she was forced to work for meagre pay.
On Friday, prosecutors in the US state of California said they were unable to corroborate the allegations against Meshael Alayban, 42.
Ms Alayban's lawyers said the maid's claims were a scam to remain in the US.
The charges carried a penalty of up to 12 years in prison.
Friday's announcement came during what was originally supposed be Ms Alayban's arraignment.
Orange County District Attorney Tony Rackauckas told the judge the evidence did not support charges against Ms Alayban and moved to dismiss the case.
Ms Alayban, reportedly one of six wives of a scion of the Saudi royal family, had been free on $5m (£3.1m) bail posted by the Saudi consulate.
'Forced labour'
The unnamed Kenyan woman alleged she was forced to work 16 hours a day and paid far less than what she was originally promised.
She had begun working for Ms Alayban last year in Saudi Arabia under a two-year contract with an employment agency.
That contract guaranteed her $1,600 a month for eight-hour work days, five days a week, California officials said.
Instead she was paid $220 a month and forced to work twice as long, according to prosecutors.
The 30-year-old Kenyan woman also alleged her passport was taken from her when she arrived in Saudi Arabia. It was only returned to her long enough for her to travel to the US with Ms Alayban.
In California, she said she was forced to perform household chores for at least eight people in four units at the same block of flats where she was allegedly held captive.
When she managed to escape, she flagged down a bus driver and later went to police.
At the time of Ms Alayban's arrest in July, the district attorney described the situation as "an example of forced labour".
Steve Barick, a lawyer for the accuser, said: "My client was a slave to this woman."