US Joseph Naso jury seeks 'Alphabet' killer execution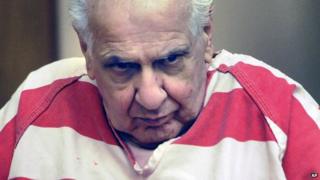 A California jury has recommended the death sentence for a man convicted of the murders of four women, all with matching first and last initials.
Joseph Naso, 79, was found guilty last month in the so-called "Alphabet" killings of Roxene Roggasch, Carmen Colon, Pamela Parsons and Tracy Tafoya.
The bodies of the four strangled women, all prostitutes, were dumped in rural areas in the 1970s and 1990s.
Naso was prosecuted after police found evidence in his home in 2009.
A judge will sentence him later.
The jury at Marin County Court on Tuesday heard closing arguments from Naso, who represented himself and asked the jury to recommend he serve life in prison without parole.
But Deputy District Attorney Dori Ahana argued for the death sentence, presenting the jury with macabre photographs of the lifeless bodies.
Ms Ahana said it had taken between two and five minutes for each of Naso's victims to die of asphyxiation.
"He enjoyed their suffering," Ms Ahana said. "He enjoyed their pain, tying them up and dumping their bodies like garbage."
In 2009, probation officers in Reno, Nevada, carried out a routine firearms search of Naso's home. At the time, he was on probation for a conviction in California.
Macabre evidence
Inside his house, officers discovered a grisly collection of evidence, including a "List of 10" featuring references to the women's killings. There were photographs of women appearing drugged or dead.
Also uncovered was a journal with detailed descriptions of rape and violence toward underage girls and women.
Roxene Roggasch, 18, and Carmen Colon, 22, were killed in the 1970s. Pamela Parsons, 38, and Tracy Tafoya, 31, were killed in the 1990s.
Naso told the jury that he "was not the monster that killed these women".
He remains a suspect in the killings of at least two other California women.
The jury had considered those deaths when deciding on whether to recommend capital punishment.
Jurors were told that Naso also killed Renee Shapiro, 38, and Sharieea Patton, 56. Ms Shapiro vanished in 1992 while Ms Patton's body was washed ashore in Marin County in 1981.
Hundreds of prisoners are already on California's Death Row. Executions have been on hold in the state since 2006.