American poverty figure edges up to 46.5 million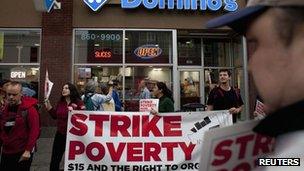 The number of Americans in poverty rose slightly last year to 46.5 million, according to US Census data, despite a stock market recovery.
The figure edged up from 46.2 million in 2011, meaning the national poverty rate remains unchanged at 15%.
It is the sixth year in a row that the rate failed to improve, despite the US being out of recession since 2009.
The poverty threshold last year was income below $23,492 (£14,700) for a family of four.
Some analysts blame the lingering poverty on changing employment patterns and tightening of the social safety net.
Many jobs added since the recession have been in the lower-paying services industry, including retail and restaurants.
While the Standard & Poor's 500 index gained 16% on a total return basis last year, the Census Bureau report shows median household income remained statistically the same, at $51,017.
The bureau also estimated about 16.1 million children and 3.9 million people aged 65 years and older were living in poverty last year.
John Iceland, a former Census Bureau expert on poverty and a sociologist at Penn State University, called the 2012 number "discouraging".
"This lack of progress in poverty indicates that these small improvements in the economy are not yet being equally shared by all," he told the Associated Press news agency.
The poverty threshold is based on income before tax deductions, and takes into account some government benefits, such as unemployment insurance.
Such benefits helped keep 1.7 million people outside of the poverty threshold, according to David Johnson, the chief of the Census Bureau's household economics division.
Related Internet Links
The BBC is not responsible for the content of external sites.