Washington Navy Yard shooting: The victims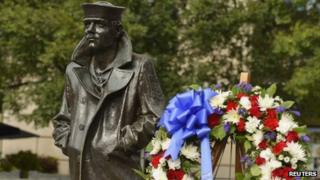 The people killed at a US Navy facility in Washington DC on 16 September represented a cross-section of life in the nation's capital.
Among the 12 killed were an architect, an IT technician, a security guard, and other civilians who play an unsung but critical role in the US defence.
Family members mourned the wives, husbands and parents lost in the attack, asking that they be remembered not as victims but as individuals.
Here are profiles of the dead:
Martin Bodrog, 54
Martin Bodrog was a Sunday school teacher and a married father of four from Annandale, Virginia.
On snowy winter days, he would help shovel all the driveways of his elderly neighbours, his family wrote in an obituary.
He spent more than two decades in the military, specialising in amphibious operations and later helped the service design and purchase naval ships as a military contractor, according to the obituary.
He leaves his wife of 25 years, Melanie, and three daughters, Isabel, 23, Sophie, 17, and Rita, 16.
Michael Arnold, 59
A Navy veteran from Lorton, Virginia, Michael Arnold worked at the facility as part of a team that designed amphibious assault vessels.
He had retired from the Navy as a commander or lieutenant commander, relatives told the Associated Press. He was stationed at Pearl Harbor, Hawaii.
He had been married for more than 30 years to his wife, Jolanda. They have two adult sons, Eric and Christopher.
The avid pilot had been building a light airplane, which remains partially assembled in his basement, his uncle, Steve Hunter, told AP.
"He was a loving son of his mother and his wife, and great father to his kids," Mr Hunter said.
"It's tragic. How can you get up in the morning and go to work and have that happen? How do bad things like that happen to good people?"
Sylvia Frasier, 53
Sylvia Frasier worked as a network security administrator with the Naval Sea Systems Command.
She was the second-youngest of James and Eloise Frasier's seven children.
The Washington Post wrote about her family's anxious wait for news, and later reported Ms Frasier performed music, mime and dance at Rhema Christian Center Church in Washington DC.
Ms Frasier also worked night shifts at a local Walmart because she enjoyed interacting with people.
"I'd say, 'What are you doing working here? You don't need the second job?'" Joe Sieger, a Walmart assistant manager, told the media.
Mr Sieger said Ms Frasier would respond, "I just enjoy it... I like talking to people, I like being around people."
Kathleen Gaarde, 63
In an email to the Associated Press, Kathleen Gaarde's husband, Douglass, wrote: "Today my life partner of 42 years (38 of them married) was taken from me, my grown son and daughter, and friends. We were just starting to plan our retirement activities and now none of that matters.
"It hasn't fully sunk in yet but I know I already dearly miss her."
Gaarde had worked at the Navy Yard as a financial analyst, alongside her husband until his retirement last year.
The couple met while studying electrical engineering at the University of South Florida in Tampa, a relative told AP.
She was described by a family friend as a loving wife and mother, raising her two children and dog in a modest home.
"The mother was just the kindest lady in the world," Patrick Bolton told the Washington Post. "I'm not even exaggerating. I've never seen her do anything but nice things for people."
Frank Kohler, 50
Frank Kohler had reportedly driven to Washington from his home in Maryland for a meeting at the Navy Yard.
He was a site manager for the defence contractor Lockheed Martin.
He was married to Michelle and had two college-age daughters.
A friend said he loved to boat and fish, and went on frequent hunting trips to Canada. He was a graduate of Pennsylvania's Slippery Rock College, a Pittsburgh Steelers fan and a past president of the local Rotary Club.
His former boss, Bob Allen, described Mr Kohler as "a great family man, a Christian and a great friend".
"It just doesn't seem possible. I mean, you hear about these things all the time... But when you know somebody, it just makes it all the worse. It's a huge loss for southern Maryland," Mr Allen was quoted by AP as saying.
Vishnu 'Kisan' Pandit, 61
"Kisan took great pride in being employed by the United States Navy, which he very proudly served in various capacities as a civilian for over 25 years," Vishnu Pandit's family wrote in an obituary shared with the Washington Post.
"Kisan felt extremely privileged to have contributed to the superiority of the US Navy and the country that he served."
Pandit was a marine engineer and naval architect, and worked at the Naval Sea Systems Command.
Originally from Mumbai in India, he attended a marine engineering college in Calcutta before moving to the US, where he graduated in naval architecture from the University of Michigan.
He had moved to America "in search of a better life for his family".
His family remembers him as "a kind and gentle man who loved his family, friends, dog and job".
He leaves behind his wife of 35 years, Anjali, his two sons and a granddaughter.
Kenneth Proctor, 46
Kenneth Proctor was a civilian utilities foreman at the Navy Yard. He didn't work in Building 197, where the shooting unfolded, but would go there for breakfast, his ex-wife, Evelyn, told the Associated Press.
"We were still very close. It wasn't a bitter divorce," she said, referring to their split earlier this year. "We still talked every day, and we lived 10 minutes away from each other."
They had two sons together, Kendull, 15, and Kenneth Jr, 17. She described him as "a very loving, caring, gentle person".
Arthur Daniels, 51
Arthur Daniels relocated and installed office furniture in federal government buildings around the region.
At his funeral on 25 September, his boss said the two were returning from a cigarette break when they heard shots and ran toward an elevator.
After Mr Daniels was hit, he pushed his boss out of the line of fire, according to media reports.
Mr Daniels leaves behind five children and nine grandchildren.
"He was a good father and hard worker," his wife, Priscilla Halmon-Daniels, was quoted by AP as saying.
His was not the first gun-related death the family had endured.
The couple's 14-year-old son was killed by a gunman in Washington DC four years ago, according to media reports.
John Roger Johnson, 73
John Johnson was a civilian employee of the Navy, described as a "smart man" by a neighbour to the Washington Post.
He had lived at his home in Derwood for more than 30 years and was "just delightful", the neighbour said.
He is pictured here with his wife, Judy, in an undated family picture.
Mary Knight, 51
Mary Knight worked as an information technology specialist at the Naval Sea Systems Command. She also taught at Northern Virginia Community College.
She had travelled extensively for her work, but what really mattered to her was family.
"Her [two] daughters were her everything," her brother-in-law, Theodore Hisey, told AP.
"They are in their 20s, so it was all about their colleges, their needs."
She was born in North Carolina and was a practising Catholic. Knight had a masters degree in computer resources and information management.
Gerald Read, 58
Gerald Read was married to wife Cathy for 35 years. They met while he was studying at Indiana University of Pennsylvania. Over the years he took two master's degrees.
He worked as an information assurance specialist with the Navy Sea Systems Command.
He had spent much of his career in military law enforcement and as a systems analyst, serving in South Korea.
He held the rank of lieutenant colonel in the Army. During the wars in Iraq and Afghanistan, he supervised efforts to supply and maintain forces overseas.
His wife told the Washington Post that he was passionate about family life and his job, and described him as "totally reliable, really, really solid".
An avid reader and Civil War buff, he was very close to his daughter, Jessica, and his three grandchildren.
The Reads shared their family home in Fairfax County with their four dogs and two cats. The couple had worked to help rescue Labrador retrievers for more than a decade.
Richard Michael Ridgell, 52
Richard Michael Ridgell worked as a security guard at the Navy Yard.
Mr Ridgell was a former corporal with the Maryland State Police, having working on the force from at least 1983 to 2000.
He attended Brooklyn Park High School in Maryland, according to his Facebook page.
He leaves behind three daughters, who told reporters they wanted Mr Ridgell to be remembered as a great father, not a victim.