US officer Randall Kerrick 'justified' in shooting Jonathan Ferrell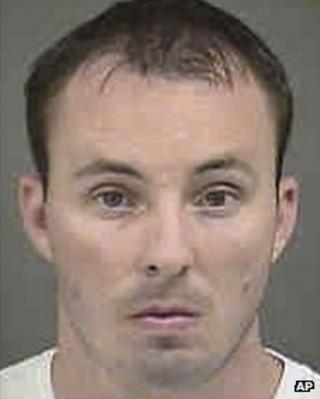 The defence lawyer for a North Carolina police officer charged in the shooting death of an unarmed car accident victim has said his actions were justified.
Officer Randall Kerrick, 27, shot Jonathan Ferrell 10 times after responding to a report of a break-in early on Saturday morning.
Ferrell, 24, had crashed his car and sought help at a nearby house.
His family suggested his race - he was black - contributed to the white officer's response.
Mr Kerrick, 27, did not appear in court on Tuesday for the first hearing on a charge of voluntary manslaughter.
After Tuesday's hearing, defence attorney Michael Greene said the officer's actions "were justified on the night in question", but declined to take questions.
'Inappropriate' action
Ferrell's car went off the road in a suburban neighbourhood about 15 miles (24km) from downtown Charlotte, North Carolina, at around 02:30 local time (06:30 GMT) on 14 September.
The former Florida A&M University football player walked to the closest house he could see and started "banging on the door viciously", police Chief Rodney Monroe said, according to the Associated Press.
The female occupant of the home answered the door, believing it to be her husband. When she saw Ferrell, she called the police.
On Tuesday, police released what they said was a recording of the householder's emergency call in which she pleads for officers to hurry because she believes someone is breaking in.
During the call, the unidentified woman repeats: "Oh, my god! Oh, my god!" She says a man has knocked on her door and is "in my front yard yelling".
The officers found Ferrell on a dead-end road. Police said he ran at them, and they first attempted to stop him with a stun gun.
Ferrell is said to have continued running at Mr Kerrick, who then shot at him 12 times, striking him 10 times, police said.
He died at the scene.
The National Association for the Advancement of Colored People, a civil rights organisation, and the Ferrell family's lawyer, Chris Chestnut, have questioned whether race played a role in the shooting.
"The officer is white, Mr Ferrell is black... To shoot first and ask questions later is not an appropriate action for a police officer," Mr Chestnut said on Monday.