Sierra Nevada clean-up volunteer Shane Krogen dies in fall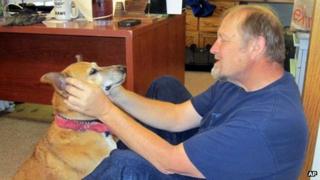 A volunteer who helped clean up illegal cannabis farms in the Sierra Nevada mountains of California has died in a fall from a helicopter.
Shane Krogen was being lowered in a harness to a remote section of Sequoia National Forest on Thursday when he fell, according to media reports.
The helicopter was flown by the California National Guard.
Mr Krogen was part of the High Sierra Volunteer Trail Crew, which maintains mountain hiking trails.
The accident is currently under a multi-agency investigation.
He had been with the organisation for 18 years, an official told the BBC.
In that role, he had participated in clean-up missions of illicit cannabis cultivation sites in the mountains since 2008, according to a California Department of Fish and Wildlife (CDFW) statement.
Mr Krogen's "dedication to California's natural resources was extraordinary," the department said. "He and his crew have worked tirelessly for several years to maintain access to the high Sierra for all Californians."
Thursday's operation was part of a joint mission with the CDFW, the California National Guard and the US Forest Service to identify and eradicate the most polluted illegal cannabis sites in California.
Mr Krogen was reportedly the last one out of the helicopter and used a harness that had borne all previous passengers to the ground without incident, a CDFW official told the Associated Press news agency.