Georgia man jailed for life for shooting baby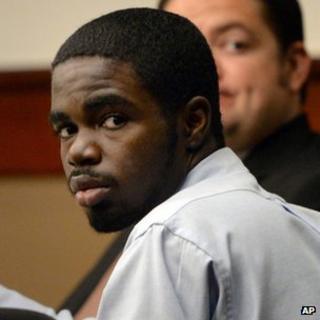 A US teenage robber who counted down to shoot a baby dead after his mother refused to hand over her purse has been jailed for life without parole.
De'Marquise Elkins, 18, shot 13-month-old Antonio Santiago, who was in a pushchair, between the eyes on 21 March this year in the US state of Georgia.
Elkins was spared the death penalty as he was 17 at the time. He showed no emotion as he was sentenced.
The mother of the dead child said Elkins had taken "the love of my life".
During Thursday's sentencing, the judge handed down the maximum sentence.
He imposed an additional 105 years in prison on other charges, including 30 years for Elkins' shooting and wounding of a pastor outside a church, 10 days before killing the baby.
Antonio's murder appalled the nation.
'Cruel and unusual punishment'
The jury in the town of Marietta, Georgia, last month found him guilty on 11 counts, including two counts of felony murder and one count of malice murder.
During the trial, prosecutors said Elkins had approached Antonio and his mother, Sherry West, to demand cash.
When she refused, Elkins twice threatened her baby and counted down from five as Ms West pleaded that she had no money.
She tried to cover her child with her arms as the gunman fired a warning shot, a bullet into her leg and then shot Antonio.
On Thursday, Ms West delivered a victim statement, made to rhyme like a poem, about the loss of her son.
"His first word was never heard. His first sentence was never said," she told the court through tears. "He never got to sleep in a toddler bed."
Defence lawyer Kevin Gough said afterwards that the sentence had been harsh.
"Life without parole for a juvenile, our position remains, is cruel and unusual punishment," he said.
The defence team said Elkins had been neglected by a mother who struggled with drug abuse and sometimes left him home alone without food.
Elkins' accomplice, 15-year-old Dominique Lang, is to be tried later for his role in the death of Antonio.