British Columbia salmon return one of largest seen in region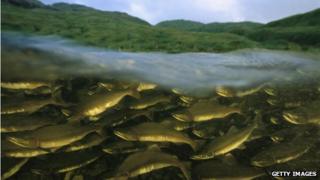 An estimated 26 million pink salmon have crowded British Columbia's waterways, nearly three times more fish than expected, officials have reported.
Roughly 17 million of the fish, which have a two-year life cycle, returned from the ocean in 2011.
This month's salmon run is one of the largest ever seen in north-west British Columbia, officials have said.
Researchers were uncertain what caused the increase but said the pink salmon's survival conditions must have improved.
Officials had anticipated only nine million fish.
"It is a really good return this year, and we're quite pleased to see it," Les Jantz, area director for the British Columbia Interior, told the BBC.
"It is a bit of a surprise... Hopefully it will be a sign of improved ocean conditions in the future."
Mr Jantz said large pink salmon returns had been reported in the US state of Alaska, which could foreshadow significant sockeye salmon returns after a low season.