Diana Nyad says Cuba-US swim was 'squeaky clean'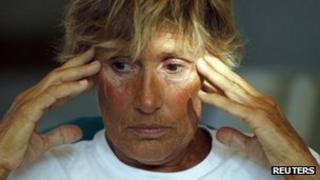 Marathon swimmer Diana Nyad has defended her 110-mile (177-km) Cuba-to-Florida feat in a conference call with other endurance swimmers.
Ms Nyad said her journey through the Florida Straits was "squeaky clean", after some suggested she had held on to a boat for part of the swim.
She has promised to make public all observations and notes taken by her navigator and two observers.
Critics questioned a seven-hour stretch when Ms Nyad doubled her speed.
Her navigator, John Bartlett, has said the long-distance swimmer hit an exceptional current that propelled her faster towards the Key West, Florida, beach.
'Life and death'
"I swam," she said on the Tuesday call. "We made it, our team, from the rocks of Cuba to the beach of Florida, in squeaky-clean, ethical fashion."
Endurance swimmers have been debating the details of the 53-hour swim, which Ms Nyad completed last week, in online forums and social media.
Ms Nyad also argued in the call that the first person to make a crossing got to set the rules for that body of water.
Susie Maroney first swam across the Florida Straits in 1997 with a shark cage. Ms Nyad was the first to do so without one.
She said her "Florida Straits Rules" would include no flippers, no shark cage, no getting out of the water, never holding on to the boat, never holding on to the kayak, never being supported by another human being or being lifted up or helped with buoyancy.
Ms Nyad was criticised for not following the sport's English Channel rules, which would not have allowed her a protective full-body suit and mask to protect her from jellyfish.
Jellyfish stings had foiled Ms Nyad's previous attempts.
"It is the only way, the swim requires it," Ms Nyad said. "I don't mean to fly in the face of your rules, but for my own life's safety, a literal life-and-death measure, that's the way we did it."
After the call, Evan Morrison, co-founder of the online Marathon Swimmers Forum, said he was pleased Ms Nyad would make public the details of the swim.
"I wouldn't expect to discover anything untoward, but I think it will help us understand a lot better what happened and give us a fuller picture of the achievement," Mr Morrison told the Associated Press.
Following four failed tries - one in 1978, two in 2011 and one in 2012 - Ms Nyad had vowed that it would be her last attempt to cross the Straits.