De Blasio wins NY Democratic mayoral primary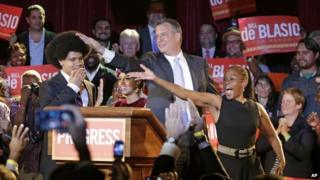 New York City's public advocate Bill de Blasio has comfortably won the Democratic mayoral primary.
With all precincts reporting, Mr de Blasio had 40.13% of the vote, but it is unclear if he must face a run-off with ex-city controller Bill Thompson.
In the Republican race, Joe Lhota, the former head of NYC's transit service, won with about 52%.
The winner of each party's primary will vie in November's mayoral election to replace incumbent Michael Bloomberg.
The long-time mayor, who took on the role as a Republican in 2002 but won as an independent four years ago, has not explicitly endorsed a contender in either primary.
Weiner's obscene gesture
Wednesday's results show that Mr de Blasio, seen as one of the more liberal candidates, barely crossed the 40% threshold needed to avoid triggering an automatic run-off on 1 October.
It has yet to be determined if a second Democratic vote will take place. An estimated 19,000 absentee and military ballots remain to be counted, and could shift Mr de Blasio's winning margin.
Mr de Blasio was joined by his interracial family, who have featured prominently in his campaign ads, as he told a crowd of supporters: "We are better as a city when we make sure that everyone has a shot. We begin tonight."
The 52-year-old, who has promised to fight economic inequality, worked in Bill Clinton's White House and Hillary Rodham Clinton's Senate campaign before being elected to the city council and then public advocate.
Mr Thompson, the sole African-American candidate, received 26% in the nine-way Democratic race.
Christine Quinn, the city council speaker who campaigned to be the first female and openly gay mayor of the city, ended in third place with 15% of the vote.
Anthony Weiner, who resigned from the US House of Representatives in 2011 after sending lewd pictures and messages to women he met online, came last with 5%.
His poll ratings plunged after he admitted during the campaign to similar conduct, sending X-rated messages to women under the pseudonym Carlos Danger.
One of his sexting partners, a 23-year-old woman who is now launching a porn career, turned up at Mr Weiner's primary night rally, and he was later driven away making an obscene gesture to reporters.
His wife, Huma Abedin, who had appeared by his side at the height of the scandal to pledge that she would stand by him, was nowhere to be seen.
Spitzer loses
Another scandal-damaged politician, Eliot Spitzer, who quit as New York's governor in 2008 after paying for sex with prostitutes, lost the Democratic primary for the lesser office of city comptroller. He mustered 48% of the vote against 52% for Scott Stringer, the Manhattan borough president.
The Republican mayoral primary, a three-way contest, attracted less interest, as registered Democrats outnumber Republicans in the city by six-to-one.
Mr Lhota secured 52.6%, defeating grocery store mogul John Catsimatidis, who had 40.6%.
"Now is the time for our party to come together and unite for the common good. This is the first step towards continuing a strong future for our city," Mr Lhota said.
The Democratic primary focused on Mr Bloomberg's legacy, with Democrats promising a new direction while Republicans largely want to uphold his policies.
New York City has not elected a Democratic mayor in five terms.
The city's next mayor will inherit several budget problems, including a deficit of about $2bn (£1.2bn) and increased costs expected as teachers, firefighters, police and many other city employees are working under expired contracts.