Montana newlywed 'shoved husband' to death off cliff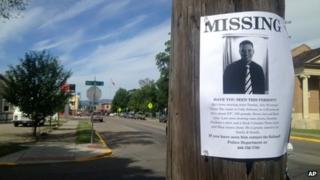 A Montana newlywed has been charged with murder after admitting she shoved her husband off a cliff eight days into their marriage, authorities say.
Jordan Linn Graham, 22, appeared in a federal court on Monday charged with Cody Johnson's death on 7 July.
Police say Ms Graham initially lied about what happened that evening. She reported her 25-year-old husband missing the next day.
Her lawyer declined to comment to the Associated Press news agency.
Johnson's family had called for an investigation after his body was recovered by helicopter below a steep viewpoint known as the Loop, in Glacier National Park on 12 July.
'Fell face first'
According to an FBI affidavit, in an initial interview on 9 July Ms Graham told police she had received a text from her husband that he was going for a drive with a friend.
But, she said, both she and her husband usually deleted their texts, and so she could not show police the message in question.
Two days later she was the first to report finding her husband's dead body.
A park ranger told her it was unusual that she had found the body, according to the affidavit.
"It was a place he wanted to see before he died," she allegedly replied.
According to the sworn statement, a copy of which was reproduced in the Missoulian newspaper, on 16 July she admitted having lied to police about her husband's death.
She is said to have told investigators that the couple had been arguing when they agreed to go to the hiking trail at the Loop, where their bickering worsened.
Johnson grabbed her arm before she removed his hand, and "due to her anger, she pushed Johnson with both hands in the back, and as a result, he fell face first off the cliff", says the affidavit.
The accused had doubts about her week-old marriage, according to text messages she allegedly sent to a friend on the night Johnson died.
She wrote that she was "having second thoughts about having been married", the FBI said.
That night, she texted the friend that she was about to talk to her husband.
"But dead serious if u don't hear from me at all again tonight, something happened," Ms Graham wrote, according to the affidavit.