Syria crisis: US orders non-emergency personnel out of Lebanon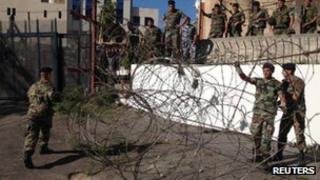 The US state department has ordered non-emergency US personnel to leave Lebanon and has approved voluntary evacuation from southern Turkey.
The state department cited "current tensions the region" but did not specifically mention Syria.
The department also warned US citizens travelling in the two countries to remain alert to potential danger.
The US Congress is debating President Barack Obama's request to wage a military strike against Syria.
"Given the current tensions the region, as well as potential threats to US government facilities and personnel, we are taking these steps out of an abundance of caution to protect our employees and their families, and local employees and visitors to our facilities," state department spokeswoman Marie Harf said in a statement.
The department did not offer details of any threats to the US embassy in Beirut, Lebanon, or the consulate in Adana, Turkey.
But it issued the warning less than a week before the 12th anniversary of the 9/11 attacks and amid an intense debate over Mr Obama's plans for a potential military strike in Syria.
In the past week, Mr Obama and leaders in the US Congress have been trying to gather support for a resolution authorising force in Syria, with votes expected next week.
But analysts say supporters of military action face an uphill battle in the House of Representatives, where lawmakers in both parties are opposed to involving the US in the country's civil war.
Separately, almost 20 embassies in the region were closed last month after the US said it had picked up unspecified threats.
The US embassy in Sanaa, Yemen was closed for two weeks over the threats.