Two month California prison hunger strike ends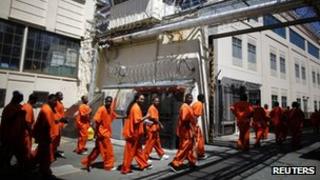 A nearly two-month hunger strike by California prison inmates protesting against solitary confinement has ended, a corrections official has said.
Corrections Secretary Jeffrey Beard said all prisoners were accepting meals on Thursday.
The protest ended as two state lawmakers pledged to hold hearings on the solitary confinement policy.
The strike had dwindled to 100 prisoners this week, down from as many as 30,000 at the start of July.
Of those still refusing food this week, 40 had been on strike continuously.
A federal judge had given officials permission to force-feed inmates if necessary to save their lives. While some protesters have needed medical attention, none had been force fed.
Many of the strikers accepted vitamins and electrolyte drinks during their fast.
"We are pleased this dangerous strike has been called off before any inmates became seriously ill," Mr Beard said in a statement.
State Senator Loni Hancock and Assemblymember Tom Ammiano, both Democrats, announced public hearings on Friday.
"The issues raised by the hunger strike are real - concerns about the use and conditions of solitary confinement in California's prisons - are real and can no longer be ignored," the lawmakers said in a joint statement.
Roughly 3,800 California prisoners deemed to have gang ties live in solitary confinement, with some having spent more than two decades in isolation.
In one high-security prison near the Oregon border, Pelican Bay, more than 1,000 prisoners remain in solitary confinement.
About 500 have been in isolation between 22-24 hours a day for more than a decade, with dozens spending more than 20 years in the cells, according to a lawsuit filed on their behalf.
The Los Angeles Times reported that prison officials moved many of the protesters to a prison outside the state capitol of Sacramento two weeks ago, with the exception of four strike leaders in isolation at Pelican Bay.