Alaska feline mayor Stubbs the cat suffers dog attack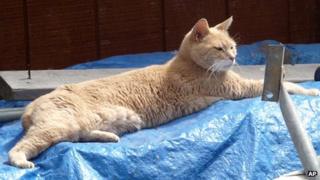 A cat which was elected mayor of an Alaskan town 15 years ago has been badly injured in a dog attack.
Stubbs the cat, mayor of Talkeetna - which has no human mayor - is receiving veterinary care.
The cat, aged 16, was elected in a write-in campaign 15 years ago.
In the wake of Saturday's attack, Stubbs has been left with a punctured lung, bruised hips, a long deep gash on his side and a fractured sternum, the AP news agency reports.
Talkeetna, 115 miles (185km) north of the state's main city, Anchorage, is dotted with artist shops and is said to be the inspiration for the US TV series Northern Exposure.