McCain caught playing phone game at Senate hearing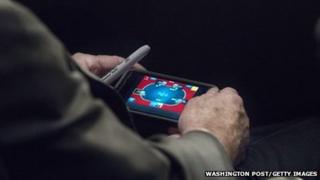 US Senator John McCain has admitted playing a game on his iPhone during a Congressional hearing on Syria.
The Washington Post published a picture of the senior Republican - an advocate of military intervention in the Syrian conflict - playing a poker game.
Mr McCain sarcastically alluded to the "Scandal!" on Twitter, pointing out the hearing had been more than three hours long and adding: "Worst of all I lost!"
But several comments replying to the post were critical of the senator.
The Washington Post said its photographer Melina Mara had seen Mr McCain playing the game during a committee hearing - and taken a picture.
The US Secretary of State, John Kerry, and other senior officials urged the Senate Committee on Foreign Relations during Tuesday's hearing that it was time to act against the Syrian government, which the US believes was behind a deadly chemical weapons attack last month.
"As much as I like to always listen in rapt attention constantly [to] remarks of my colleagues over a three-and-a-half-hour period, occasionally I get a little bored and so I resorted" to poker, Mr McCain later told CNN.
"But the worst thing about it is I lost thousands of dollars in this game," he said - adding it was only "fake" money.
Mr McCain was a prisoner of war in Vietnam, and was then elected to the House of Representatives and later the Senate, from the state of Arizona.
Building a reputation as a "maverick" for breaking with his party on issues such as campaign finance reform and immigration, he won the Republican Party nomination for president in 2008 but lost the general election to Barack Obama.