Florida lightning strike kills man, injures two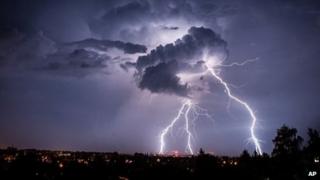 A lightning strike has killed a man and injured two others near Miami, Florida, as they sheltered from a storm beneath a tractor trailer, police say.
The three men were washing the vehicle on Monday afternoon when the storm hit.
The two injured men were reportedly in a stable condition in hospital. The dead man was named by local media as Andres Telles, 31.
Lightning strikes caused 28 deaths in the US last year, according to the US National Weather Service.
Those who were nearby heard a loud booming noise before they found the men.
"We went outside and all three of them were on the ground," witness Janet Suarez told a local NBC broadcaster.
Ms Suarez's son, Dominic Rodriguez, attempted to revive Telles.
"His body was very hot," Mr Rodriguez said. "His face wasn't a normal colour."
Investigators are trying to establish whether the lightning struck the men directly or hit the ground or the tractor.
Weather officials had issued excessive lightning advisories for the Miami area before the deadly strike.