Baby in pushchair shot dead in Brooklyn, New York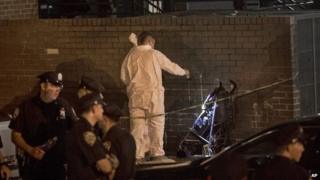 New York police are hunting for a gunman who shot dead a baby in a pushchair.
Antiq Hennis, one, was shot in the face as gunfire rang out in the Brownsville area of Brooklyn at 19:20 on Sunday evening (23:20 GMT).
Police Commissioner Raymond Kelly said the target had been the boy's father.
The boy's parents went with him to hospital where he was declared dead from a gunshot wound to the left side of his face.
Witness Gina Gamboa, 23, told the New York Post: "I heard three to four shots.
"I saw a man with a stroller screaming: 'My baby got shot! My baby got shot!' He was going crazy."
The gunfire left four bullet casings on the corner and bullet holes in the pushchair, Commissioner Kelly told reporters on Monday.
"We have some leads, and those leads are being aggressively followed," he said, adding the death may be gang-related.
Antiq's father, Anthony Hennis, has a criminal record, and was not co-operating with police in their investigation, Commissioner Kelly added.
New York City Mayor Michael Bloomberg said the killing was "a tragedy for his family, for this community, for the entire city".
City Councilman Charles Barron told the New York Daily News: "The child didn't even get a chance to start his life, and now it's over."
It is not the first time this year that a baby in a pushchair has been shot dead in the US.
On Friday, an 18-year-old man in the state of Georgia was convicted of murdering 13-month-old Antonio Santiago after the child's mother refused to hand over her purse.
New York's Brooklyn area has gentrified in recent years, becoming a cultural heartland of "cool", as Manhattan's high living costs drove hip, young trendsetters across the East River.
But the borough's eastern Brownsville district, home to some of the highest concentration of public housing in the US, has a reputation as one of the city's most dangerous neighbourhoods.