Georgia man convicted of shooting baby Antonio Santiago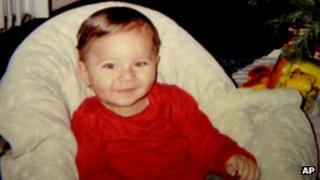 An 18-year-old US man has been convicted of murder in the shooting of a 13-month-old boy in Georgia in March.
De'Marquis Elkins now faces life in prison. At the time of the shooting, he was 17 - too young to face the death penalty under the state law.
Another youth, 15-year-old Dominique Lang, is to be tried later.
During the trial, prosecutors said Elkins shot Antonio Santiago in an attempted robbery. The killing sent shockwaves across America.
Mother's account
The jury in the town of Marietta, Georgia, found Elkins guilty of 11 counts, including two counts of felony murder and one count of malice murder on 21 March.
The shooting happened in the town of Brunswick, as Antonio Santiago was riding in a stroller pushed by his mother, Sherry West.
She told the court that her son was shot in the face and she was shot in the leg by Elkins after she refused to hand over her purse.
She said she told the assailants that she did not have any money and tried to shield her son, before shots rang out near her home.
"He asked me for money and I said I didn't have it," Ms West said, as she wept in an interview with the Associated Press earlier this year.
In 2008, Ms West lost another son, 18-year-old Shaun Glassey, who was stabbed to death in an attack involving several other teenagers in the state of New Jersey.
On Friday, the jurors also found Elkins' mother, Karimah, guilty of tampering with evidence. But she was acquitted of lying to police.