Arizona girl, six, dies in brother's joyride crash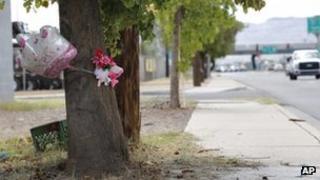 An eight-year-old Arizona boy has crashed his mother's car after taking it for a joyride, fatally injuring his six-year-old sister, who was with him.
The mother put the two children to bed in Phoenix on Wednesday night before waking up to find them gone.
As police tried to pull the car over, suspecting the two had been kidnapped, the Hyundai Elantra hit a power pole.
Police Sgt Steve Martos said neither the boy nor the 24-year-old mother were expected to face criminal charges.
"There's really no criminal element to any of it," Sgt Martos said.
"From mom's standpoint, there's nothing to indicate any neglect or abuse. From the kid's point, he's eight years old so his mental state is not culpable."
'Horrible and tragic'
It is not clear what prompted the children to go on the drive or how they got the keys.
The vehicle travelled south for about three miles (4.8km) before coming back.
According to police, the children's mother ran over to the scene of the crash after seeing police activity and was visibly distraught after discovering her children in the car.
"It was a horrible and tragic moment for her," he said.
The girl died early on Thursday, while her brother suffered a minor ankle injury.
Police did not release the names of the boy or the mother.