White House introduces two gun-control measures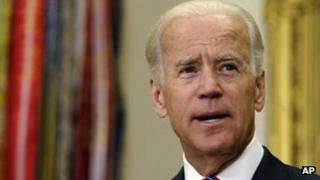 The White House has announced two executive orders on gun control, after a failed legislative attempt to pass firearms regulations.
Vice-President Joe Biden announced that the administration would end the import of military surplus weapons.
The second order aims to stop criminals registering guns to corporations or trusts to dodge background checks.
The gun-control debate was revived as a gunman killed 20 schoolchildren in Connecticut last December.
Gun rights advocates said Thursday's White House measures to limit gun violence were "misdirected".
"This administration should get serious about prosecuting violent criminals who misuse guns and stop focusing its efforts on law-abiding gun owners," said Andrew Arulanandam, a spokesman for the National Rifle Association (NRA), America's largest gun lobby group.
'Very artful dodge'
The US will now deny requests to re-import military arms sold or donated to foreign countries by private entities, Mr Biden said.
About 250,000 of these kinds of guns have been brought back to the US since 2005. Under the new policy, there will be only a few exceptions, such as museums.
The White House has also proposed a rule to require people associated with corporations or trusts to undergo the same background checks if they want to register guns to those kinds of entities.
The Bureau of Alcohol, Tobacco, Firearms and Explosives (ATF) received more than 39,000 such requests in 2012. Mr Biden called the loophole a "very artful dodge".
He announced the moves during a swearing-in ceremony for Todd Jones to serve as the head of the ATF.
Mr Jones's confirmation to the post comes after six years of political wrangling to fill the leadership of the agency.
A move to enact some gun control legislation failed in the US Senate four months ago, amid heavy lobbying by the NRA.
Mr Biden has claimed that a handful of lawmakers who opposed expanded background checks on gun-buyers have told him privately they have changed their minds, though the White House has not named any such officials.
Before the failure of a gun-control package that included expanded background checks, President Obama in January outlined 23 executive orders that his administration could take without congressional approval.
With Mr Jones's confirmation, the White House has completed or made progress on all but one of the 23 items.
Efforts to require insurers to cover mental health at similar levels to general medical benefit have not yet been fruitful.
The White House said it was committed to making that happen by the end of 2013.
Sweeping regulation, however, including any ban on certain assault-style weapons, can only be taken up by Congress.