De'Marquise Elkins trial: Sherry West testifies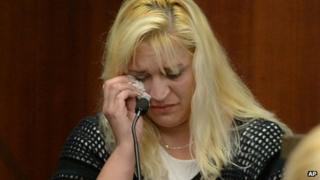 The mother of a baby allegedly shot dead by two teenagers has testified she tried to shield the 13 month old from the gunfire.
Sherry West cried as she testified that De'Marquise Elkins, 18, and a teenaged accomplice demanded money and began shooting when she refused.
She said she told them she had spent all her money on the baby.
Mr Elkins has pleaded not guilty to the murder of Antonio Santiago in the small coastal town of Brunswick, Georgia.
Ms West on Tuesday testified at Mr Elkins' murder trial, which was moved to an Atlanta suburb after the killing drew national media attention.
His alleged accomplice, Dominique Lang, 15, will be tried for murder at a later date.
Ms West, who was shot in the leg during the attack, said the two teenagers approached her as she was walking home from a post office in March.
She said Mr Elkins threatened her when she refused to give them money.
"He asked me if I wanted him to shoot my baby," she said. "I said, 'Don't shoot my baby.'"
'He still shot'
She said Mr Elkins fired a shot into the ground, then shot at her. A bullet grazed her ear and another hit her leg before Mr Elkins turned to the stroller with Antonio in it, she said.
"I tried to stop him,'' she said. "I put my arms over my baby, but he still shot him."
The teenagers hit her with the gun and tried to grab her purse before fleeing, she said.
The accused showed no emotion as Ms West identified him in the courtroom as the man who shot her son.
Defence lawyers attacked her credibility, suggesting she had expressed uncertainty to police about the gunman's identity.
Lawyer Kevin Gough also asked Ms West about the medication she took for various conditions, including bipolar disorder and post-traumatic stress disorder and asked repeatedly whether it was possible she was having a psychotic episode during questioning by police.
The defence also questioned why she would take a walk with her child if she knew the neighbourhood was dangerous.
If convicted, Mr Elkins faces life in prison. He is ineligible for a death sentence as he was 17 years old at the time of the shooting.