Texas church linked to measles outbreak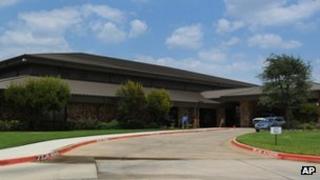 A large Texas church has offered free measles jabs after it was linked to an outbreak among families who had declined to be vaccinated.
Eagle Mountain International Church has had 21 cases since a church visitor contracted measles while overseas.
Those afflicted range from four months to 44 years old, and a majority of those infected had not been vaccinated.
In recent sermons, the church's pastor encouraged those who had not yet been vaccinated to do so.
"I would encourage you to do that... Go do it... And do it in faith,'' Terri Pearsons, daughter of televangelist Kenneth Copeland, said from the pulpit on 14 August at the church in Newark, Texas.
Ms Pearsons had previously been sceptical of measles vaccinations, USA Today reports. The disease spread among families who had chosen not to vaccinate their children, health officials said.
The church held immunisation clinics over the weekend.
Texas Department of State Health Services spokeswoman Christine Mann said Texas has had 27 cases of the measles this year, with five of those cases having no links to the church and one unclear case.
There were no cases in the state last year and six the year before.
"If [measles] finds a pocket of people who are unimmunised, and the majority of our cases are unimmunised so far, then if you are around a person with measles, you will get sick,'' said Russell Jones, chief epidemiologist for Tarrant County Public Health.
The US Centers for Disease Control and Prevention (CDC) recommends children have two doses of the combined vaccine for measles, mumps and rubella.
Measles is spread by coughing, sneezing and close contact with infected people. Symptoms include a fever, cough, and a rash on the face.
The fatality rate for the disease in children is one or two in every 1,000 cases, according to the CDC.
A statement from Eagle Mountain International Church said their position regarding any medical condition was "first seek the wisdom of God, His Word, and appropriate medical attention from a professional that you know and trust".